The study shows that a number of experts in child development feel there is no replacement for the devotion and motherly love that mothers gives, especially if the alternative is a unstable, and poorly managed childcare. However, when faced with the dilemma to stay home with the children or go to work, it is not always an easy decision.
As a matter of fact, one would think that a stay-at-home parent live the life of luxury, but that is not truth a stay-at-home parent can sometimes feel as if they are trapped juggling many responsibilities. However, when a mother gives birth to a child she wants the best for her child. A mother always wishes that life's greatest opportunities be offered to her child.
Working mother -VS- stay-at-home mother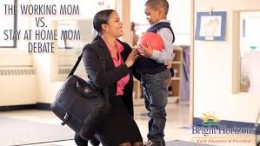 Many working females need to make a difficult decision of whether to focus on earning money equal to two incomes or stay at home looking after the child/children to ensure they are given proper care. With the cost of living continuing to rise it is not an easy decision. But one thing for sure as a stay-at-home mom, odds are you will always be available when your child needs you as opposed to the child being stuck in a low-quality daycare. So let's take a look at the pros and cons of staying home with the children or going to work.
The Five Pros of staying at home
#1 Spend less money: Working in the American corporate world, an individual must maintain the job. She must dress and look presentable, wear professional clothing, keep hair, nails and makeup, and simultaneously take care of bills and weekly gas expenses. It can be surprising how much money it costs to get through a weekly routine of fulfilling a job.
#2 Sometimes Females feel unfulfilled: Just taking care of the children, cooking, laundry, and grocery shopping just isn't enough to make her feel complete, she needs more. She needs her own income to be able to feel complete.
#3. Staying at home can make a female feel lonely and depressed:Sometimes a woman can feel lonely staying at home. She might fear to lose her identity after losing a career that once made her feel complete. Taking care of children, doing laundry, grocery shopping and taking care of her spouse just isn't enough to make her feel her own value. She can get depressed and thus she needs to find a way to feel complete and find happiness again.
Continue Reading:http://hubpages.com/family/httphubpagescomhubFive-Pros-and-Cons-of-being-a-Stay-at-Home-Parent