From the reflection in my mirror, there is only one person who holds the driving force and that's me. My reflection in the mirror only shows what's outside as no one can see deep within. Only I know and see the face in the mirror as I really truly am. The reflection in my mirror is the effect of all my life's experiences that only I can present. Given that I have the final say how to represent myself in a world that is repeatedly changing it is vital how I interact with the reflection in my mirror.
As I stand in front of my mirror I ask myself what do you see when you look in the mirror'? Do I recognize the person who standing before the mirror or is I developing an imagine of a person others require of me which is nothing like me? It is vital for me to have knowledge of who I am within the reflection in my mirror and not lose who I am in the shadow of the personalities.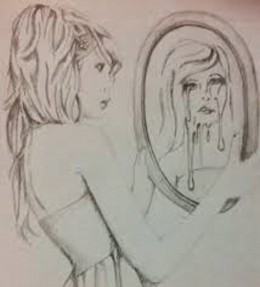 Sometimes, seeing can be deceiving and when dreaming one might wonder is it believing. Since I been old enough to begin looking at myself, I have developed beliefs, values, and experiences that undoubtedly has helped shape me into this reflection I see today. My life consists of stumbling blocks that blocked my reflection in the mirror and stood in the way of my happiness.
Nevertheless, looking for my reflection makes me realizes I have to stop these stumbling blocks now to continue to see my reflection. This mirror is here as my escort to remind me to do the things that I need to do, but my reflection is an imagine that let me know I need to take control of my life, and today is the beginning. As I struggle to understand why it is the reflection in the mirror echoed from the mirrors as it does.
While my experiences undoubtedly helped shape me, that does not mean I grasp everything in my life as I have to not live life in a prison created by my mind. To not live life in a prison set up by my cognizance I must not live my life like I am "sleep-walking" through it as I search for answers to any problem that makes me miserable at the end of each day. When I look into the mirror and the reflection are missing then I am still living my life like I am trying to distinguish how to live life to the fullest, to see the reflection I have to come into contact with what life has to offer. That does not mean I can dream myself out of a miserable life into another life, but it does mean that I can exert myself on the road to seeing life crystal clear when I look into the mirror.
I must understand my life for me to take control of my existence and continue to see the reflection in my mirror. I must not allow another person imagine replace the face in my mirror. There are various questions I keep asking myself when my face appear in the mirror "How well do I know myself?" How do I stop stumbling blocks from removing my reflection of who I am and never allow life to overwhelm me?" How do I continue to see my reflection if I have no idea what face are before me in the mirror?" For me to have the answer to these questions I have to distinguish who I am and understand what I want in life. I need to differentiate who I am because identity has a way of evolving. Although there comes, a time in everyone lives when they just don't feel comfortable looking in the mirror. For the reason, knowing your identity is an ongoing journey to see the reflection in the mirror, as discovering who you are can be ongoing.