The future we desire and want has yet to be shaped.As we often forget the power we possess in our everyday decisions that we make to shape our destiny. The decision we make will create the life we are living currently, so it becomes necessary for us to find out the meaningful answers to crucial questions for being able to make a wise decision. Decision-making requires an open approach that encompasses all aspects, an attitude that looks at every perspective and a broad vision that considers every possibility no matter how big or small it is. In short, there are neither shortcuts nor easy formulas for ethical decision-making
.
So what does decision-making means? When we have to do something, but we are not sure of how, and what to do, we stand at the crossroads of decision-making. The key to making a wise decision is the ability to select the right course of action and ask the right questions. Once we grow into adulthood everything in your life, business and personal exist so when it becomes a matter of our own lives; we need to gather up the courage to take decisions on our own.
When we walk on the straight path, it is possible to choice the best decision for us. However, if we place the decision-making process in the hands of others it becomes the outcome of a bad decision. Moreover, why put the right of decision-making in the hand of others, after all, for how long can we ask others to guide us through the right decision? Eventually, we have to learn to make decisions by our own selves as life is too long, and we cannot depend on others.
When it becomes a matter of our own lives, we need to gather up the courage to take decisions on our own. However, the big question is how do we shape a life, so it becomes alive and real for us. There are many ways we can shape our destiny, but our first step is to start by knowing what we want from life. Then visualize the life you want and spend much time developing your life's path.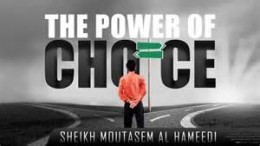 What to do when the path gets bumpy to make sure you use your power of choices wisely
Throughout our everyday lives, we are faced with countless choices and those choosing is shaped by the choices we make besides there may be times when we make choices that cause our life's path to be like a series of hills. When we choose or when we are not sure if we want hills, valleys or the straight path the passageway becomes confusing, unbalance, and very bumpy. After making a decision like these, we should stop and examine the choices we made and identified new opportunities that will bring us back to the original path.
People often spend lots of time creating the picture-perfect path for themselves. However, they fail to remember three things. There is no such thing as a perfect path, the road we are creating can become bumpy and very uncomfortable if we make the wrong decision along the way. Third and most important remember you ultimately make the final choice regarding your values and how you balance your life's path.
Continue Reading: http://hubpages.com/literature/pammorrishubpagescomhubYou-have-to-live-with-the-consequences-of-your-decisions