When my family and I decide that we want to take an international trip, we immediately begin saving for at least seven months in advance. Because international travel is so expensive, and not to mention the increasing airline flight charges, a vacation itself can be a significant drain on a family finances. We thus came up with different ways to save enough money for the trip in advance. Here are five ways I made a substantial amount of savings for an international trip.
Sacrifice Now, Have Lot of Fun Later
The first thing we did mutually agreed to cut back on our expenses for seven months so we could afford the trip and be able to have fun on the trip. This meant no eating out, no family weekend time, and no plan to do different things every weekend.
The family sacrificed on several things – like no sweets or junk food, making grocery bills cheaper; no unnecessary travel to save on gas expense; downgrade cable station channels like HBO, Cinemax, etc.; downgrade the cell phone plans to just a basic cellphone line.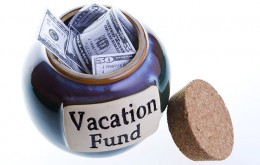 Open a Vacation Savings Account
The entire family was serious about their effort to save and fund our trip directly, so we set up a vacation saving account. Each week I would deposit the money we saved by eliminating family weekend activities, cut down on groceries and other saving methods. For seven months I collected the money I saved from downgrading TV cable and cell phone plans, cut down in children's allowance and the special activities which my children gave up. I even wrote up a family vacation saving account plan on an excel spreadsheet to keep up with the total amount save each week and monthly.
Continue Reading: http://hubpages.com/travel/httphubpagescomhubHow-I-Saved-money-for-an-International-Family-Vacation#slide13005367