As I reflect back upon the very first time, I met the guy of my dream. Before I even had the pleasure of facing Him and speaking to Him, I had this feeling that suggests the two of us have recently connected on a deeper level before. And when we did finally meet, and as…our eyes join, my heart raced, and somehow I knew…we would be instantly connected with a deep bond that compelled us spiritually forever. Although I did not know immediately, he felt the same way I did the entire time, when we spoke to each other at that moment it was the beginning of a beautiful journey and – 'within minutes' love transcended all then I knew we were in love.
He gave me a hug that felt like a dream come true, and as if we stayed in that embrace for what seemed like forever. As we begin to date each day continues to be full of joy, and life was full of new beginnings, He was my daylight when days seem dark and hard. We had such a connection until even when we said goodnight and went our separate ways it felt like we had never been apart. I felt like I could still feel Him near me. We shared strong unconditional love, and I am happy to say we got married and He is my husband.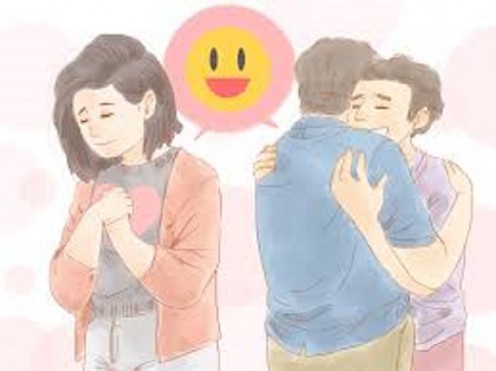 Thinking back I can remember pondering before He entered my life, things were dreadful as there's no joy in living your life alone with no trust in guys. I know I was not alone many women live alone by choice, and there's no such thing as a "right" relationship, although it requires sincere at both ends. The way my life was going before He entered when I imagined my future, I visualize myself being alone, "Lonely" — with no one beside me. Although there are many females alone, when they envision their future, they picture it with someone alongside them. And there nothing wrong with that because if others were frank with themselves, they would admit that they prefer not to live their life alone.
I believe the reason many females envision their future as being alone because they dated different guys but there was no connection, and nothing blossomed into a real relationship. Some women might have thought they found love just to be disappointed to witness the guy happily settled down with someone else. Dating can be a very disappointing encounter, but if you want ever to find love, you can't close your heart, and you must shake the nagging fear that you might end up alone.
My advice to any lady who fears being alone do not allow yourself to be consumed by loneliness, but instead, acutely be aware that the bulk of your time is spent alone and equate your self-worth with relationship status. When I felt as if I would spend my life alone, I did not know then that being single does not automatically strip a woman of her strength or doom her to closing her heart, love is still available and can be closer than she knows. But women you hold the key and the power to imagine your future, to picture it with the man of your dreams. It did not happen overnight with me, but I now understand and can share this advice from my experience with the man of my dreams.
Any female who is frustrated with her present life and want a relationship, she has to change her circumstances. Although finding love comes with heartaches, it can be a great adventure. When we open our heart to love it comes with risk, I took a chance, and it brought me more joy than I would have never imagined. Some women are alone because they are afraid to take a chance on love as they have been hurt from previous risks. Never give up on love, you will find it —I'm sure — it 's closer than you think and it will be a different finish than expected.
Continue Reading: https://hubpages.com/relationships/httppammorrishubpagescomTRES-BIEN-ART-EXIBITION