Words make an unbelievable amount of difference and for this reason children who have not yet learned the power of words should certainly learn from the words spoken by parents. Have you ever heard someone say, "You are going to eat those words?" To some, it may sound like a fabricated statement, but in reality, people do eat their words. If only we all knew the power of words. What you say not only hold power but it affects others and also affects you.
The power of words is incredible especially when used in an appropriate way they can change situations. Words can make a surprising amount of difference by encouraging, edify, and give confidence to the hearer. The right words can add color to black and white days. Moreover, using them and learning new ways, they can make your life amazing. Words will add substance to those pleasant moments, and they will make you the very best that you can be, and that is a powerful effect.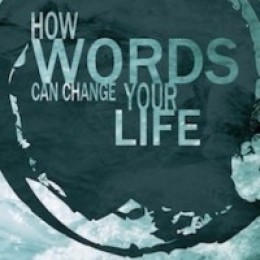 How Words Can Change Your Life
Words hold the power to shape a person to who they are, how people see them and how successful they end up. Words are powerful and amazing. They also have a way of making a person come out of their shell and perceive the world for what it offers. Try to remember the first words that you ever said? Chances are those words reassured that the child in you are growing up and learning. Do you remember the cruelest words someone ever said to you? The kind of word that cut into the depth like a knife. We all have experienced a harsh spoken word at some time in our lives.
Think back on the power of those words? Also, think of the impact of negative words over those which are positive. Positive words can change a person perception of life. They can encourage and help people through difficult times. Also, they can supply strengthen in times of weakness and assist a person to cope with all that life throws at them. Words can put a label on many. They articulate outcomes and also leave an impression. Thus all the words that you receive from people over the years build you into who you are today. Words bring about the beliefs that you have and enhance your character along with an outlook on life.
Thus, if negative words are frequently used within your life, you collect them. Destructive words are very powerful and will hurt who you are. By changing the display of words that affect your life, you can create a difference to your outlook and the way you live life.
Words, in general, can help a person to become intact and take responsibility for their thoughts. We must realize there is nothing that we can do to control the thoughts or words of other people. A person must be responsible for his or her own words. When we realize that, we will find our positivity to shine.
Be careful of your thoughts, for your thoughts become your words. Be careful of your words, for your words become your actions. Be careful of your actions, for your actions become your habits. Be careful of your habits, for your habits become your character. Be careful of your character, for your character becomes your destiny. — Chinese proverb
Continue Reading: http://hubpages.com/health/httphubpagescomhubChange-Your-Thoughts-Change-Your-Words-Change-Your-Life